"Everybody likes to have a place to think, to meditate, to eat a burrito." Sherman Alexie, American Novelist
Introduction
Asylum in the US has always proved to be a boon for people outside the world to stay, work and start a new journey far away from fear, persecution, and torture. People from all around the world come and seek asylum in the US each year.
As per the UN Convention of 1967 and its protocol, an asylum seeker is someone who is unable or unwilling to return to their home country due to consolidated fear or discrimination based on race, religion, or nationality.
The US immigration law reflected this definition when the Refugee Act was passed in 1980. In the years since then, the US has provided refuge for those fitting this description – although numbers have steadily declined from 2019's high of 46,508 down to 17,692 in 2021.
However, this declining number has made asylum seekers apprehensive about getting asylum in the USA. Also, Title 42 may have an impact on Asylum visa volumes. We have covered this in our earlier blog, Title 42 and its impact on Asylum Visa.
We have compiled this blog to help you draw a pathway to  get an asylum visa. In this blog, know the necessary steps to get an asylum visa, including eligibility requirements, filing an application, review process, and much more. With the right knowledge and resources, you can successfully navigate the path to an asylum Visa.
Here we go!
Who is eligible for an Asylum Visa?
Fear of returning to your home nation alone does not suffice for asylum under US laws (8 U.S.C. § 1158). You must also be able to demonstrate that you qualify as a refugee according to the definition stated in 8 U.S.C. § 1101. Simply put, someone must have a well-founded fear of being persecuted in their home country.
The persecution must have been based on at least one of these elements: race, religion, nationality, political opinion, and membership in a particular social group. Apart from it, the asylum seeker must be present at the US port of entry.
How many people are granted Asylum?
In the last couple of years, there has been a considerable reduction in the number of people who were granted asylum. During 2021, only 17,692 applicants were approved by the USCIS compared to 31,429 and 46,508 in 2020 and 2019, respectively.
The table below shows the number of individuals granted Asylum Affirmatively or Defensively FY 2012 -2021.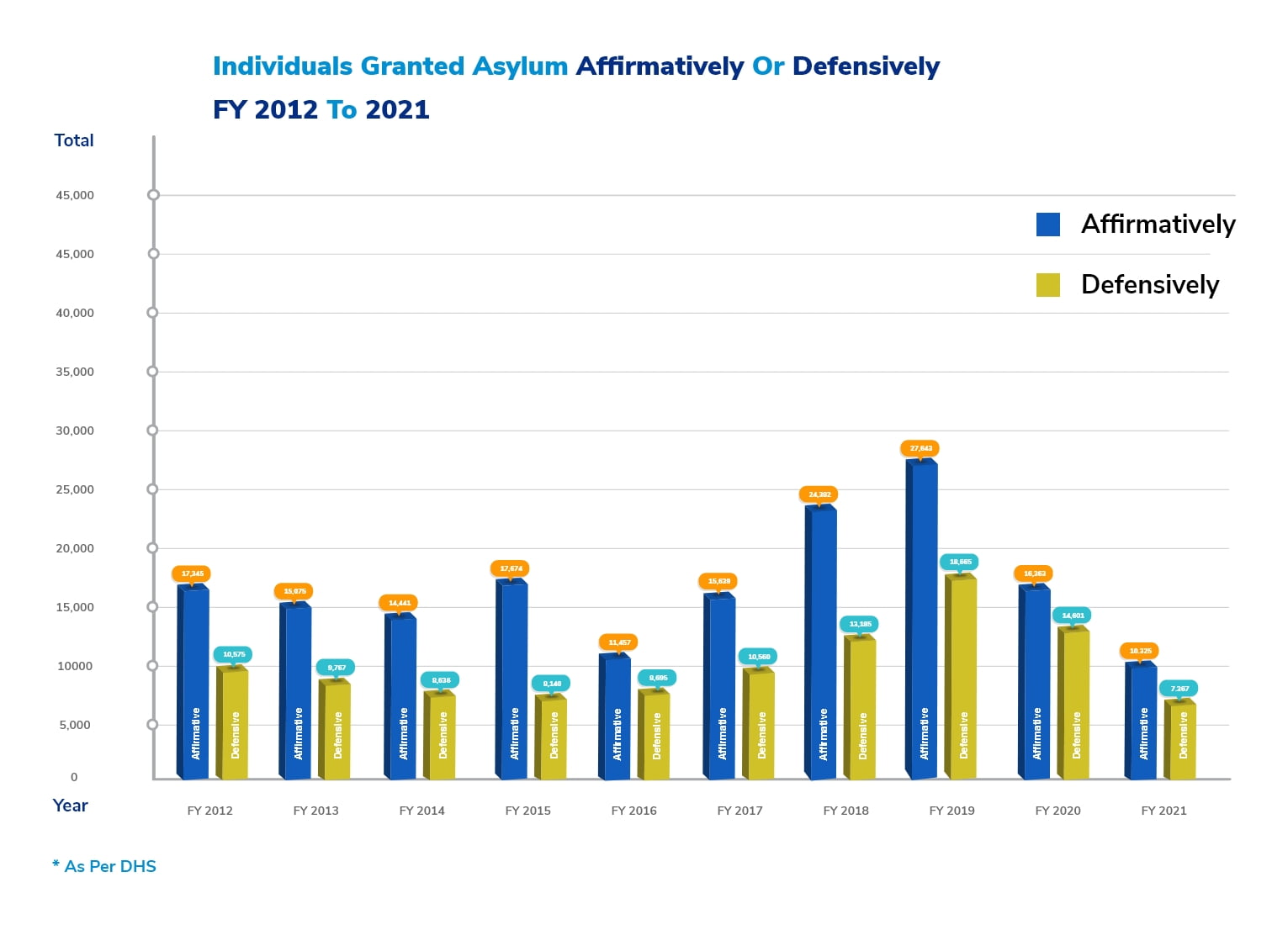 It is imperative to know that individuals can get asylum in two ways; affirmatively and defensively. A USCIS asylum officer grants affirmative asylum, and defensive asylum is granted by an immigration judge of the DOJ's Executive Office for Immigration Review (EOIR) during the removal proceedings.
How long does the Asylum process take?
Generally, the entire process of seeking asylum can take many years to finalize. Individuals may lodge their application and clear the credible fear screening test; however, a hearing or interview appointment could still be many years away.
Before the COVID pandemic hit, waiting times were already long but have become even more extended due to the restrictions and prolonged court closures, which caused delays for months or years.
Is there a deadline for Asylum Visa Applications?
Talking about the deadline, an individual must apply for asylum within one year of arrival in the US. If he fails to do so, he is out of the race to get asylum. In addition, seeking asylum in both affirmative and defensive processes comes with various hardships that can prevent individuals from meeting the one-year deadline.
For some, their experience with detention or travel to the United States is so traumatizing that they are unaware of the timeframe. Even those who are aware of this have to face system barriers like lengthy backlogs that prevent them from submitting the application on time.
In many cases, the government has denied asylum visa applications because of missing the one-year deadline. The crux of the matter is that you have to keep in mind the one-year deadline to be in the race to get a visa for asylum.
What Is the Asylum Application process?
There are three major paths an individual can take to obtain asylum in the United States: the affirmative process, the defensive process, and the expedited process.
● Affirmative Asylum
An individual not in a removal proceeding can affirmatively apply for asylum through the USCIS. If the asylum officer denies the asylum visa application and the applicant does not possess legal immigration status, the individual will be directed to the immigration court for removal proceedings.
However, during these proceedings, individuals can renew their application through a defensive procedure and present themselves before an immigration judge. In 2021, 10,325 people were granted affirmative asylum by the USCIS.
● Defensive Asylum
An individual facing removal proceedings can seek asylum defensively by filing an application with the Executive Office for Immigration Review in the Department of Justice.  In 2021, 7,367 people were granted defensive asylum by the EOIR immigration judges.
● Expedited Asylum
A person apprehended within 14 days of entering the United States is subject to "expedited removal" proceedings. He will experience a new process effective from May 31, 2022. An asylum officer from USCIS will assess and determine his asylum claim before placing him in a formal removal proceeding. If the individual is denied asylum, then through this mechanism, he is referred to immigration court for further expedited hearings.
How can Imagility help you seek Asylum?
Imagility, an AI-driven immigration software platform, enables the filing of asylum visa applications conveniently. The intuitive interface allows users to quickly create effective petitions utilizing legal inputs from proficient attorneys on the platform.
Moreover, Imagility's Asylum mobile App makes it simpler for individuals seeking asylum visas by allowing them to comprehend the process, manage tasks and collaborate with attorneys anywhere and at any time. This way, the app helps you improve your chances of getting an Asylum visa.
Download the app on Google Play store & Apple App store today!