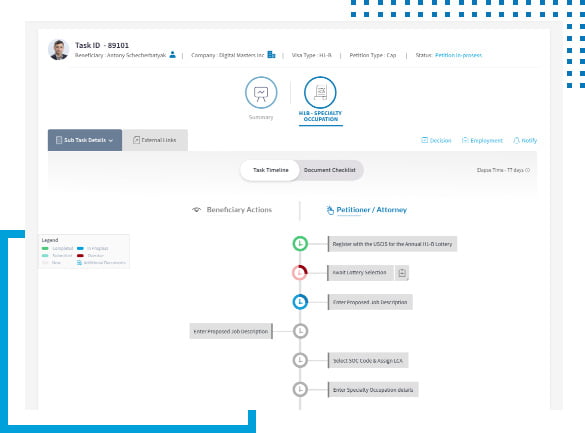 Attorney and immigration teams spend a considerable amount of time answering client enquiries, requesting documents, case status calls or just procuring relevant information to build petitions. If all these repetitive tasks could be taken care of or integrated in the immigration workflow itself, it would help attorneys and immigration teams save an enormous amount of time and improve efficiency manifold.
Automating immigration workflows can reduce the workload of attorneys and immigration teams considerably. Imagility automates immigration workflows by automating the visa process and case management process.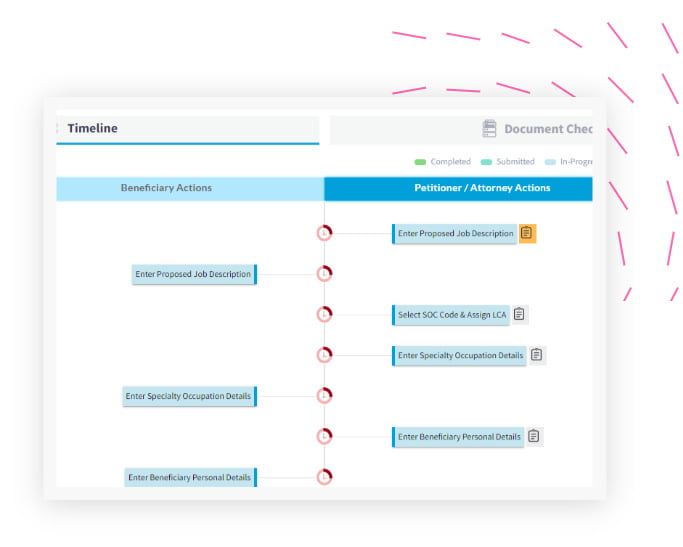 Transparent & Collaborative Workflows
Petition timelines are accessible by all the people part of petition, i.e., Beneficiary, Petitioner and Attorney through their respective logins and can work on their relevant sections as required, with the ability to view the status of steps that others are working on.
All the people assigned to the petition task, be it preparer or authorized signatory of the petitioner, Attorney and Beneficiary can view all the steps of petition as 'Petition Timeline' and act on their relevant sections in parallel. Only the required steps will be enabled to work on by the user, based on permission controls, however other steps can be viewed by them.
Data & documents required for petition processing are gathered from the beneficiary profile, petitioner profile and attorney profile to avoid data duplication and to keep a single source of truth. Attorneys/Petitioners can also send digital intake forms to beneficiaries that can be filled remotely with e-signatures and synced to the profile. Data from respective profiles get auto populated in relevant petition timeline steps during petition building.
At the end of the task, the software pulls together all the data & documents entered/uploaded by various stakeholders and a well-structured petition all set to be submitted to the USCIS is ready. This is true workflow automation.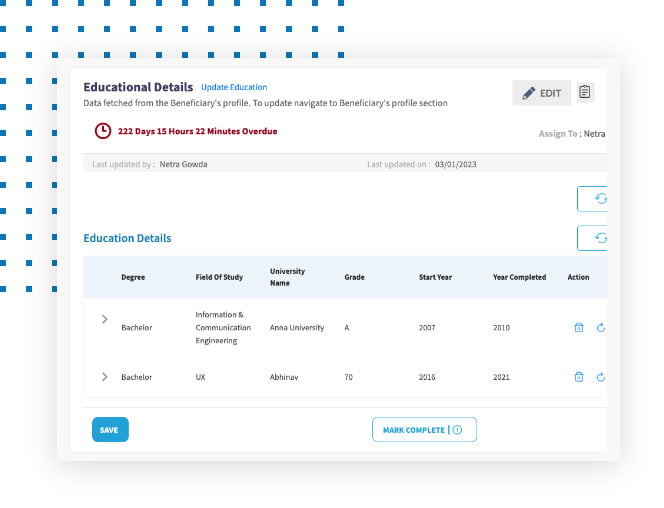 Imagility makes immigration simple and easy by breaking down convoluted immigration processes into smooth workflows that are intuitive to the user. It enables transparent workflows, guided petition building and analysis, along with automatic notifications and alerts, cutting down drastically on emails and phone calls, saving precious time and money.